There's embarrassing and then there are these local Dems
By Nick, Section News
Posted on Wed Feb 18, 2009 at 07:46:06 AM EST
Tags: Gleason, Whitmer, Slezak, Robert Jones, tax hikes, cruise, Bahamas, Jim Crow, legislature (all tags)
We're talking dumb, dumber and just plain asinine. I don't know how else to describe the moves made yesterday by three Democratic state lawmakers here in Michigan, other than to slap my forehead forcefully and repeatedly.
I'd probably get a kick out of some of this nonsense, if it wasn't so thoroughly dangerous.
OK, so its not all dangerous. One of the House Dem's freshmen members, for instance, isn't going to do any real overt damage but that doesn't make his latest campaign fundraising gimmick any less ridiculous. Apparently the man doesn't own a TV or a radio and he's missed all of the Governor's "Pure Michigan" tourism ads.
Instead of hosting his next fundraiser on the lakeshore or at a great local restaurant or ski resort, Representative Jim Slezak is packing up his donors and asking them to shell out hundreds of dollars to go on a cruise with him. Not in a classic car down Woodward Avenue in Detroit, mind you... on a cruise line. To a private island. In the Bahamas.
All aboard!
I couldn't make this up. Read on...
The
Flint Journal
reports:
The trip costs about $660 per person, including a $350 donation to Slezak, and is so unusual the new lawmaker had to check with the Michigan secretary of state's office to make sure it was legal. The charge doesn't include airfare or all the little umbrella-laden beverages you can drink.

Slezak's already got about 50 takers and is hoping to get upward of 100 for the fundraising trip dubbed "Cruising with state Rep. Jim Slezak."
Lets do the math... 100 Michigan donors spending $310 out-of-state each (after Slezak's substantial cut) comes to $31,000. Airfare to the typical cruise departure points isn't cheap either but lets be generous and figure each donor could find round-trip plane tickets at $1,000. Chalk up another $100,000. And, of course, no one is going to a private island in the Bahamas without buying at least a few of those foofy drinks and a tacky t-shirt or three. That can get expensive. Say, $200 each on food, drinks and souvenirs over the three day span... $20,000.
So we're talking, conservatively, $151,000 in tourism revenue that Jim Slezak is generating not only out-of-state, but much of it clear out of the United States. Because local Michigan tourist destinations apparently have A) nothing to offer and B) don't need the business.
Way to go, Representative. Way. To. Go. Don't be surprised if the next time you answer the phone Jeff Daniels is on the other end, tearing you a new one.
Still, as dunder-brained an idea as an anti-Michigan Bahamian cruise to a private island might be its small potatoes compared to an idea by one of Slezak's colleagues in the House Dem caucus. According to the Kalamazoo Gazette, Representative Robert Jones yesterday introduced legislation to raise taxes on home sales specifically to fund new housing projects for people who can't afford to buy homes.
Think of it like a poverty-perpetual-motion machine. If the goal in Michigan's clinically depressed housing market is to get people buying homes, or much more broadly, to get homeless people into homes, why in blue perfect heck does this man want to charge them more to buy their home?!
But even this latest Democratic attempt to raise taxes on families across the state pales in comparison to the monument to stupidity erected yesterday on the Senate floor by Democratic state Senator John Gleason.
If you've got a strong stomach and a high tolerance for two-faced politicians, absurdly heated rhetoric and an unhealthy dose of over-the-top snark and vitriol you may have swung by any of the lefty blogs this morning or yesterday afternoon.
The Dems' 2010 AG nominee, Gretchen Whitmer staged this fancy protest bill demanding that the Senate GOP cut their own office allotments to the level of Senate Democrats. It could save the state $3 million a year, she argued, and would be in keeping with Republican claims to support fiscal sanity.
Now, granted, the Senate GOP has a five member advantage in the chamber while the House Democrats have a thirty-four member advantage themselves, meaning the savings Whitmer's suggestion could reap in the chamber her Party controls could be substantially and overwhelmingly more numerous and lucrative, but she didn't bother to have a sit-down with Speaker Dillon.
No House Democrats rising in support of her political stunt to offer to cut their own budgets to fall in line with those they've allotted House Republicans. Not one. So its obvious on its face, especially the way she coordinated with the regresssisphere, that this was little more than early campaign rhetoric and a far cry from a partisan crisis of conscience... but... Gleason did her one better.
According to Lansing insider publication MIRS, Gleason rose on the floor after Whitmer's comments and "went into a long statement condemning the current budget setup as one of "separate but equal," comparing it to the pre-civil rights era. Gleason said it goes back to the idea that its "OK to use every resource to discriminate against us."
This, ladies and gentlemen, is John Gleason.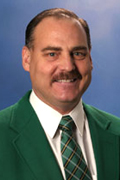 And I'm suddenly reminded of Robert Downey, Jr.'s famous exchange in Tropic Thunder. "Hey, what do you mean, 'you people?'"
What do YOU mean, 'us,' Senator? So to speak.
The size of caucus budget allotments has a lot to do with a lot of things. Elections. Winners. Losers. Explicit responsibilities left to the Majority Party, whichever it may be.
Nowhere on that list will you find "Jim Crow." Caucus budgets are further from being a racial issue than the state bird. And if they aren't, boy do you have one heck of a big bunch of racists across the hall in the Democratic Majority in the state House!
But thanks, Senator, for belittling the centuries-long struggle for equality of an entire people in the failed pursuit of a couple of quick campaign points. The next time the Senate cafeteria serves something you don't like why not issue a press release comparing the food service to the treatment of Jews at Auschwitz. I mean, while you're on a roll.