Michigan Business Done Right - Competition
By JGillman, Section News
Posted on Wed Aug 26, 2009 at 07:39:47 AM EST
Tags: Michigan, Business, Competition, Reward, Free Markets (all tags)
I have competition, in fact I used an earlier article here to discuss how government can become involved in that competition. In that piece and others I have written, I have suggested (sometimes a little more subtly) the Michigan Film Credit to be a waste of taxpayer money on its face and an unnatural market affecting mechanism at its core. The credit, based on a study that shows positive impact and attraction of jobs in a certain sector when that sector's rewards are sweetened, much like pouring honey on the ground and eventually seeing hundreds of ants converging. (Or maybe better described as doing something else.. that attracts flies..)

Its true. Reward DOES affect activity, and even our state government understands that. But its only a part of the impact, and the other part which they use to FUND that reward strategy has its inverse effect. How many DE-rewarded (those who PAID the taxes to support the incentive) businesses did not expand, innovate, or hire new workers as a side effect? In a recent Mackinac center release:
"It is conceivable that programming the actual costs of this subsidy into the economic model (known as REMI) would show that the Michigan Film Incentive destroys more jobs than it creates," said LaFaive, who has used the model and studied it at REMI headquarters in Massachusetts. "The revenue has to come from somewhere. In this instance, it is reasonable to conclude that it is coming from existing Michigan businesses that have been paying the new Michigan business tax and its related surcharge. As much as $48 million was taken from businesses in 2008 to subsidize filmmakers, and this has probably destroyed more jobs than it could have hoped to create."
In Michigan's bid to be more "competitive" with regard to attracting the film industry, it does so by extracting from the competitive ability of the other businesses. Businesses which have already chosen to be here WITHOUT a reward from big government.

I live and operate my business here in Michigan as a matter of choice. As a warehouse, my costs are heavily affected by shipping and materials handling. As others who are in distribution in Michigan might be able to tell you, the East and West coasts are likely better candidates for these logistics. It is far more cost efficient to have facilities close to shipping hubs than in "flyover country." But here we are, for better or worse.
Why? Because we might actually love where we live.
Knowing that the market in which I reside has a number of different levels, I have had to find a comfortable place where I can offer a unique blend of my service and pricing, all the while understanding the built in handicap based on location. To do so, I must assemble all of the variables of cost and those logistics. As a business which attempts to make a profit, my formula is something like this:
The customer COST of [Service Level + Product Value] minus the business COST of [Product + Employees + Habitation + Government] is what the business owner expects to receive as compensation for his or her efforts.
Assume the owner of a business has determined that $2 is what is needed to make it worthwhile to run a business, then a given "static" business cost would allow the business owner to manipulate the customer cost element to meet the desires of the customers. If the [service level has a value of $15, The Product $35, ] the customer COST of the product is $50. Providing the [Product replacement of $34, Employees $7, Habitation $3, Government $4] then leaves the business owner with $2 as compensation.
An adjustment to the product replacement is often reflected across the board, and all other competitors will likely see the same adjustment, which is usually seen in the end price, or the Customer Cost, but may also be seen in an adjustment of service level to keep the cost the same. The VALUE of the product is eventually revealed in the market's desire for that product, and the competitive nature of the businesses will usually provide a decent balance, or.. then the businesses fail, which they should.
Increases in Employee and Habitation costs also affects the balance, but are often decided on merit. If your business location serves you well, and makes you efficient, its worth a little more investment. If your employees are hard working, they deserve to be paid more as they accomplish more than those who are less productive. Ultimately however, these costs offset themselves, and may in fact provide a unique competitive element, giving your business an edge in a free market unhampered by external (government) mandates.
You pay more, you sometimes get more ..as the theory goes. I have certainly tried to do so in my endeavors. It is certainly worthy of a few more paragraphs which essentially could be a reasonable economics lesson. Unfortunately, business is not only dealing with the "natural" forces in a free market manner.
Because after all... there is still government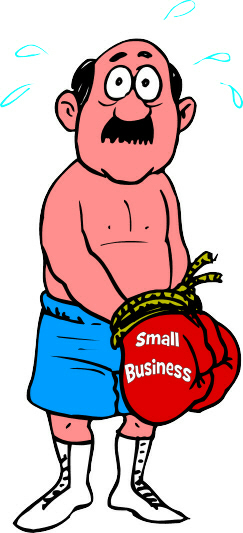 tying our hands..
Government which has at its helm people who have little concept of the balances business must make when allocating resources. Government which while allowing itself to be manipulated by the certain business lobbies, effectively steals from its support system, handing over revenues collected to "encourage growth" of the industries those lobbies represent. The ever growing "philanthropic" generosity of the state must be funded. Revenues must be ultimately raised from those who are not deemed worthy to receive the same consideration.
In the meantime, businesses which see their taxes increased, can see that this unnatural collection of revenue must be taken from replacement of the product, the Employees, degrading of the location situated, or the owner loses too much, and eventually decides it is not worth it, or simply cannot afford to remain in business.
Government provides NOTHING to replace the value of increasing what it takes. It doesn't make the product cost less, it likely even raises the rent because the landlord is a business too. In fact, because of employee "protections" enforced, properly negotiating a "sharing of the pain" becomes too difficult as well.
Often, to remain competitive, the last resort left to the business is to find a way to "escape" the influence and cost of government interference. Some manufacturers have done so by moving their factories overseas. Some have closed up shop altogether. And while the "tax burden is higher" in some other places, (a claim often used to defend further increases) it is only PART of the decision set when true entrepreneurial desire seeks to find a place to settle. The intrusive and manipulative nature of a government, whether state, federal or even locally usually has more of an impact.
Competition is best served by the absence of people who do not have a personal stake in any enterprise. If a product is good, has value to enough people it will sell itself eventually settling on a price that is agreeable to the buyer and seller. If the seller cannot make enough for its survival it fails.
However, as we have seen with Michigan's model, government cannot properly compete without destroying. It replaces one deficiency by creating many more. A film credit, an MEDC grant, regulating away entire traditional industries while trying to encourage new "green industries." No personal stake, no reason to consider the effects, no need to compete with better ideas, no consideration of true market forces, but rather rely only on central planning idealism, with a skim off the top for a few elite, a few perceived "relevant" and "cool" industries, all the while removing the ability of the true competitive spirit to flourish within our state.