Your New Scoop Site
Welcome to Scoop!
To help you figure things out, there is a Scoop Admin Guide which can hopefully answer most of your questions.
Some tips:
Most of the layout is changed in "Blocks", found in the admin tools menu
Features can be turned on and off, and configured, in "Site Controls" in the admin tools menu
Stories have an "edit" link right beside the "Full Story" link on an index page, and right beside the "Post a Comment" link on the full story page. They can also be edited by clicking the story title in the "Story List" admin tool
Boxes are what allow you to write new features for Scoop; they require a knowledge of the perl programming language to work with effectively, although you can often make small changes without knowing much perl. If you would like a feature added but cannot program it yourself, ScoopHost does custom Scoop programming as one of its services.
If you aren't sure where to look for a particular feature or piece of display, try the "Search Admin Tools" link in the admin tools menu.
For support, questions, and general help with Scoop, email support@scoophost.com
ScoopHost.com is currently running Scoop version Undeterminable from .
Tag: DRIC (page 3)
By JGillman, Section News
Posted on Mon Jan 16, 2012 at 03:51:35 PM EST
Tags: Judiciary, Detroit, NICT, DRIC, Preston Edwards, Rick Snyder, Same Day as The Appeals Court Reversal (all tags)
Friday, Jan. 13, 2012 Gov. Rick Snyder appointed David Fischer, of Bloomfield Hills, to the Judicial Tenure Commission.
The commission works to ensure the integrity of the judicial process and preserve public confidence in the courts. It is responsible for investigating complaints of judicial misconduct or incapacity, and for recommending any disciplinary action.
"David has extensive experience with public service and private sector roles," Snyder said. "His unique background will benefit the commission and our citizens."
Fischer is the chairman and CEO of The Suburban Collection, the 13th largest automotive group in the country and one of the largest privately owned automotive groups in Michigan. He serves as chairman emeritus of the North American International Auto Show, is a member of the College of Creative Studies Board of Trustees and is the emeritus director of the Detroit Institute of Arts. Fischer and his wife actively support more than 20 charitable organizations including the American Cancer Society, the Juvenile Diabetes Research Foundation and the Make-a-Wish Foundation.
Fischer will serve a three-year term expiring Dec. 31, 2014. He replaces Richard Long. The appointment is not subject to the advice and consent of the Senate. The executive director of the Judicial Tenure Commission is Paul Fischer. He and David Fischer are not related.
(2 comments) Comments >>
By JGillman, Section News
Posted on Fri Jan 13, 2012 at 09:49:32 PM EST
Tags: DRIC, NICT, Bridges, WTF, Coincidence, Judges, Quid Pro Quo, Corruption, Questions, Snyder, Prentis Edwards (all tags)
Does
THIS:
Moroun, 84, and Stamper, 62, were sent to jail Thursday as punishment for their company being found in contempt of court. Judge Prentis Edwards said Detroit International Bridge Co. repeatedly failed to follow his orders to work with the state of Michigan and get the Gateway Project done.
have anything to do
with THIS?
The son of a Detroit judge who is set to impose contempt of court penalties against Ambassador Bridge owner Matty Moroun has been appointed to the bench by Michigan Gov. Rick Snyder.
Somebody has some splainin to do.
It likely won't be Mr Moroun.
For the sake of integrity in the bench, perhaps in the executive branch in Lansing, I want to see a really good reason. I am really seriously shaken by this if it is true.
I know one fan of this site whom I hope would take a look at this. I pray there is no quid pro quo, but for the life of me I cannot get over what would have to be the crappiest coincidence in Michigan political history.
(55 comments) Comments >>
A Message To Our Legislators - Beware False Choices
By Corinthian Scales, Section News
Posted on Sat Oct 15, 2011 at 10:37:28 AM EST
Tags: NITC, Son Of Stimulus, Richardville, Snyder, Obama, DRIC, Michigan, Highway Funds, Slightly Higher Speed Rail, More Central Planning Entanglements, Executive, CZARS, Appointees, Policy Makers (all tags)
From
the same folks trying to stick taxpayers with a boondoggle bridge
for the Canucks.
"This past year marks the highest ridership totals ever on Amtrak services in Michigan," said State Transportation Director Kirk T. Steudle. "All three lines, especially the Blue Water, have made great gains, despite the slowdowns on the Pontiac/Detroit-Chicago corridor. We've taken steps to repair the track between Kalamazoo and Ypsilanti, so that will help bring speeds back to what customers expect."

Amtrak operates the Blue Water and Pere Marquette services under a contract with the Michigan Department of Transportation (MDOT). At this time, Amtrak does not receive any direct state support for the Wolverine service. Michigan is one of 15 states that provide state-supported service.
By Corinthian Scales, Section News
Posted on Thu Oct 13, 2011 at 03:21:19 PM EST
Tags: NITC, Son Of Stimulus, Richardville, Snyder, Obama, DRIC, Michigan, Highway Funds, Slightly Higher Speed Rail, More Central Planning Entanglements (all tags)
The Governerd goes full court press for that end of October vote on the boondoggle bridge.
Transportation Secretary Ray LaHood will meet in Detroit with Michigan Gov. Rick Snyder and Mayor Dave Bing to discuss the state's high-speed rail and other transportation efforts.

"I'm looking forward to meeting with Governor Snyder, Mayor Bing and the four county executives on Monday to discuss ways we can continue to improve Detroit's transportation network and provide new opportunities for economic development throughout the region," LaHood said in a statement Wednesday.
Rest here
By JGillman, Section News
Posted on Tue Oct 11, 2011 at 09:10:36 AM EST
Tags: NICT, Richardville, DRIC, Michigan, Highway Funds (all tags)
NOTICE OF SCHEDULED MEETING
COMMITTEE: Senate Economic Development
DATE: Wednesday, October 12, 2011
TIME: 1:30 p.m.

PLACE: Senate Hearing Room, Ground Floor, Boji Tower 124 W. Allegan Street, Lansing, MI 48933
AGENDA
SB 410 Sen. Richardville Transportation; funds; a new international bridge crossing act; create.
SB 411 Sen. Richardville Transportation; authorities; authority created under the new international bridge crossing act; include as an eligible governmental agency under the state trunk line highway system act.
(8 comments) Comments >>
By JGillman, Section News
Posted on Sat Oct 08, 2011 at 11:21:03 PM EST
Tags: Billions, DRIC, NICT, BAD IDEA, Snyder, Bridge, Canada, Michigan, Suckers, Crony Capitalism, Taxpayers (all tags)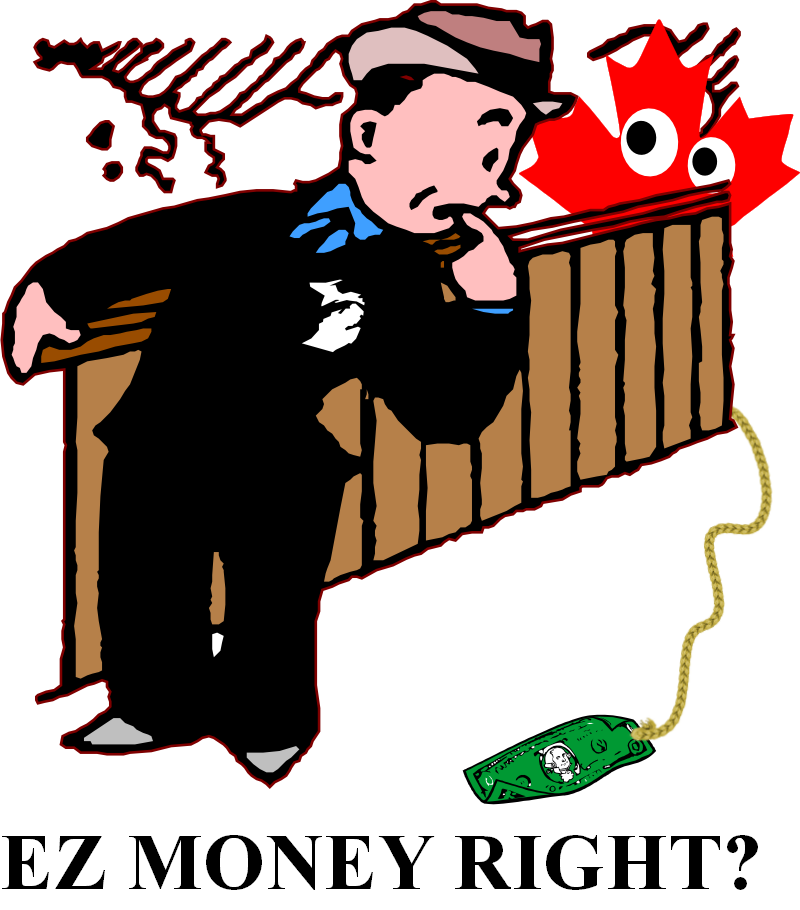 But which facts?
In an attempt to lure lawmakers into thinking popular opinion is on the side of committing Michigan to a boondoggle project that is the NITC, the administration is now pushing polls that seem to show consensus. At least once "they know the facts." A couple of weeks ago from the Ivory Tower:

"Two-thirds of Michigan voters support Gov. Rick Snyder's plan for a new bridge to Windsor once they understand Canada's role in helping to pay for the span, new poll results showed Monday.

Conducted for the corporate leadership group Business Leaders for Michigan, the poll of 600 likely voters showed that 62% favored building the public bridge and 33% opposed it. "
Business Leaders for Michigan, which portrays itself as a competitive business group is
comprised of such conservative giants
as Mary Sue Coleman, Timothy Collins, John Bryant, and other rent seeking, rely on government for their success types. I mean Gerard Anderson of DTE? Jon Barfield? Daniel Akerson of GM? And those are just a few on the list.
Folks, I present to you the greatest collection of crony capitalists this side of Wall Street. And they are all in our back yard. In this writer's view, these folks wouldn't understand a free market business model if it hit them on the head with a hard bound copy of Atlas Shrugged. The few Republicans you may find in the overall group are names added to give credibility to the rest and still does not guarantee their business models are not reliant on government handouts, intervention or "collaboration." (Read: taking from us to make their model work)
And these lefty supporting, steal from the taxpayer types want the bridge and are pushing heavily for it.
~ More below ~
(6 comments, 769 words in story) Full Story
By KG One, Section News
Posted on Sun Sep 04, 2011 at 02:03:21 PM EST
Tags: LG Calley, NITC, DRIC, Gordie Howe Bridge, Sterling Heights (all tags)
FYI,
LG Calley will be in Sterling Heights on Tuesday
to plug the guv's plan to <strike>use taxpayer money to directly compete against a private business</strike&gt promote a new bridge into Canada.
The Meeting will take place in the Sterling Heights Public Library at 7:00pm on September 6th.
Watch out for that annoying roundabout out in front.
(16 comments) Comments >>
By JGillman, Section News
Posted on Fri Aug 26, 2011 at 10:39:00 PM EST
Tags: DRIC, NICT, Detroit, Michigan, Canada, Snyder (all tags)
Republicans in Lansing.
Never let the list of questions WHY the governor wants this bridge project to go on become shortened prematurely. The Canadians are considering this a "done deal" and are building a road to the presumed location of a new bridge. The one that has no investors, no Michigan money tied up, and is not going to cost us a dime, if one were to believe promoters of it. Even though $41 million has already been spent by Michigan taxpayers the Canadian government is sure they are not building a road to nowhere:

"What if Michigan doesn't approve it?" some nervous Nellies wailed on The Star's comment threads of the new bridge. "Then it really will be a road to nowhere!"

Relax, people. That Road to Nowhere meme is just a catchy advertising slogan dreamt up by the Ambassador Bridge and its allies. It's a last-ditch attempt to preserve the lucrative private monopoly they hold on commercial traffic and sales of duty free fuel and goods.

The control they exert over two national economies is simply unheard of anywhere else in the world, and it's high time it came to an end.
Oh yeah. Thats right its about power and taxes.
I guess no private entity should EVER hold that kind of power, that would be bad.
Why is that? Why is it important to destroy a Michigan business for the sake of another country's desires? Why is it so important to this governor that he would put our tax dollars at risk by continuing to promote in a different way what could be done in the same location already?
This type of activity by two governments is exactly the reason the original owners of the bridge sought the treaty that grants that authority to the owners of the bridge in perpetuity. Is it the end of that treaty that a private entity controls that these two governments seek?
Do not stop asking.

Advertise on RightMichigan.com
Tweet along with RightMichigan by
following us on Twitter HERE!
Front Page