Your New Scoop Site
Welcome to Scoop!
To help you figure things out, there is a Scoop Admin Guide which can hopefully answer most of your questions.
Some tips:
Most of the layout is changed in "Blocks", found in the admin tools menu
Features can be turned on and off, and configured, in "Site Controls" in the admin tools menu
Stories have an "edit" link right beside the "Full Story" link on an index page, and right beside the "Post a Comment" link on the full story page. They can also be edited by clicking the story title in the "Story List" admin tool
Boxes are what allow you to write new features for Scoop; they require a knowledge of the perl programming language to work with effectively, although you can often make small changes without knowing much perl. If you would like a feature added but cannot program it yourself, ScoopHost does custom Scoop programming as one of its services.
If you aren't sure where to look for a particular feature or piece of display, try the "Search Admin Tools" link in the admin tools menu.
For support, questions, and general help with Scoop, email support@scoophost.com
ScoopHost.com is currently running Scoop version Undeterminable from .
Tag: Freedom To Work
By JGillman, Section News
Posted on Thu Mar 28, 2013 at 11:56:43 AM EST
Tags: Michigan, Right-To-Work, Freedom To Work, Labor, Unions, Civil Rights, Schools, Indentured Servitude, March 28, Workers Freedom Day (all tags)
In 2011, the new makeup of the Michigan legislature brought forth a new reality, and hope for Michigan workers and employers.
The possibility of Right-To-Work legislation in a state considered so incredibly 'hands off' was too unbelievable, that even the national right to work folks scoffed at those of us conferencing in Lansing were preparing it. They were planning some help for Indiana and possibly Ohio, but Michigan? No way.
We persisted, and believing the governor's pre-election pledge that if it came before him, he would sign it, daily efforts were made to advance this important freedom, and relief from organized labor's non-accountability. It was focused, and had too many parts that would eventually lead to its successful passage, to give credit to one entity, or idea or effort. All hands were on deck, and the trick was getting it in front of the governor to sign.
Which he did. And we thank him for honoring his promise.
While the fight to KEEP it will go on for a couple of years, we should celebrate this point in time with vigor.
Happy Workers Freedom day!
(1 comment) Comments >>
By JGillman, Section News
Posted on Fri Mar 22, 2013 at 01:19:55 PM EST
Tags: Michigan, Right-To-Work, Freedom To Work, Labor, Unions, Civil Rights, Schools, Indentured Servitude, March 27, Workers Freedom Day (all tags)
In communities all over the state of Michigan, there has been a debate that will end March 27.
That debate is whether or not to advance contracts for bargaining units so that those units will operate under a closed shop for as long as possible. Union leadership, in order to extend their hold on the workers is willing to concede items already won. Public sector employers, seeing an opportunity to get concessions not so easily given before, is eager to capitulate. By golly taxpayers are well served, right? Win Win, right? Right?
I guess its a matter of perspective.
For the employees, they get to find out how well they have been served by their bargaining masters. Being locked in so that they can lose a perk or two, and with an added bonus of having several more years of unaccountability? A BARGAIN at half the price!
Even a contract signed as recently as November can be reopened and dealt away on the basis of expected health benefits costs, and a college which hopes to limit its exposure
" MCAAP and MCCFO took the offer, he surmised, because they were going to be subject to the health care changes before the end of 2013 anyway."
.. by less than a year.
A few more shekels out of the employees pockets, so that they may remain the property of the union for an additional 5 months.
THAT'S accountability, yes?

A Message To Our Legislators - Beware False Choices
By Corinthian Scales, Section News
Posted on Thu Feb 14, 2013 at 08:40:09 AM EST
Tags: Unions, Thugs, Obama, Julianna Smoot & Lon Johnson, AstroTurf, Bullies, Hoffa, Legacy, Mobsters, Labor, Freedom To Work, Heroic Legislation, Economics, History In The Making, Lansing, Michigan (all tags)
Another Hoffa lives in denial of his thug legacy.
"We're trying to keep my grandfather's reputation back where it belongs," said his grandson, Geoffrey Hoffa, a physician assistant in Arizona. "Most people hear the name Jimmy Hoffa and have a negative image. They hear the Letterman jokes. It's a shame that people don't know more about what James R. Hoffa did and that he always stood up for the underdog."
I wonder why the negative image keeps coming up when Hoffa is mentioned...
Underdogs? They're called goonions for a reason, Geoffrey. It's also why Chicago/White House thuggery comes home to roost with the Johnson/Smoot MDP leadership infighting.
(1 comment) Comments >>
By JGillman, Section News
Posted on Thu Dec 20, 2012 at 12:32:26 PM EST
Tags: Michigan, RTW, Freedom To Work, Right To Work, Christmas, Doug Sedenquist, Randy Bishop (all tags)
Merry Christmas
H/T Doug Sedenquist
(1 comment) Comments >>
By Corinthian Scales, Section News
Posted on Tue Dec 11, 2012 at 02:01:14 PM EST
Tags: Lansing, Way to go Virg Bernero, Typical Union Mentality, Thugs, Michigan, RTW, Freedom To Work, History In The Making (all tags)
The Detroit News captures union thugs tearing down an Americans For Prosperity tent during a protest against Michigan's new Right To Work law.
h/t mrctv
(15 comments) Comments >>
By JGillman, Section News
Posted on Mon Dec 10, 2012 at 09:08:22 PM EST
Tags: Lansing, Michigan, Thugs, RTW, Freedom To Work, History In The Making, FTW (all tags)
Although I almost always mean our servicemen overseas, there is no doubt we have others to whom we will be indebted very soon.
The folks who are in the midst of the Freedom to work battle, and occupying the AFP tents. To the high power individuals who stepped up and put this over the top. To the folks who are in the midst of deliberations, and will have to endure the phone assaults, curses, and procedural tortures ad nauseum. And to our state police who will be expected to keep the peace with little or no help from Virg Bernero's personal security detail (the Lansing Police). To the folks at home giving strength to our besieged legislators. And last but not least, to the the workers who have endured the dignity robbing pain of supporting illicit and unacceptable political agendas of union leadership, simply for wishing to put food on their families' table.
God bless you all tomorrow, and going forward.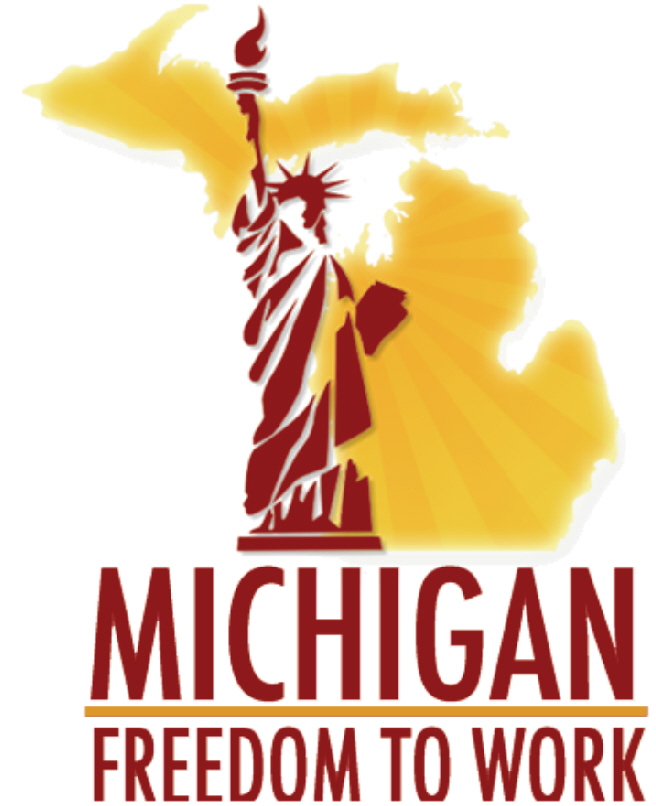 By JGillman, Section News
Posted on Thu Dec 06, 2012 at 10:36:33 PM EST
Tags: Michigan, Unions, RTW, Right To Work, Freedom To Work, Rick Snyder, Doing Whats Right, Heroic Legislation (all tags)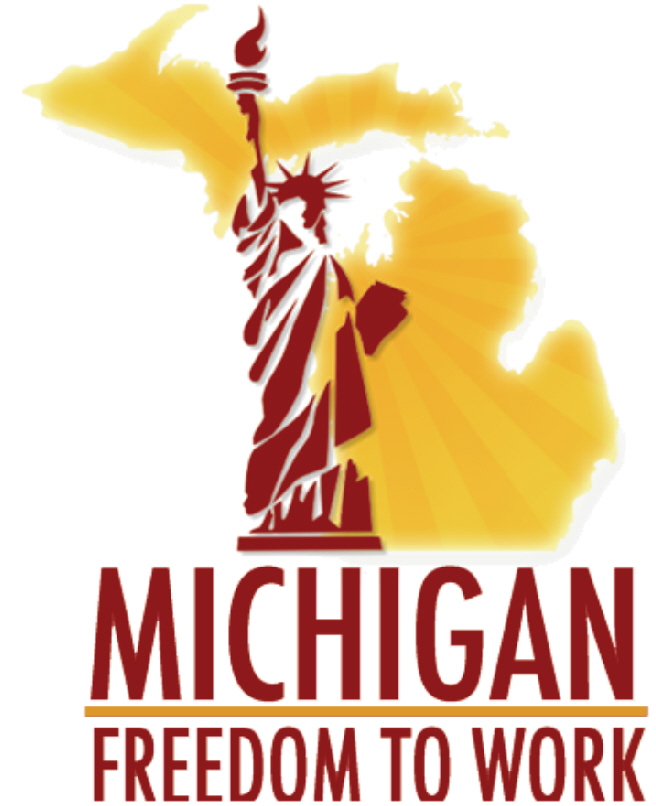 Today was a day that might forever change the direction of this country.
Amidst several hundred bussed in union protesters (some of them being unruly - see below the fold) and threats of violence, the Michigan legislature passed two important measures ensuring labor freedom in our great state:

HB 4054 of 2011 Local government; other; right-to-work zone; permit. Amends sec. 14 of 1939 PA 176 (MCL 423.14) & adds sec. 14a.

&

SB 0116 of 2011 Labor; collective bargaining; right-to-work zones; allow local units of government to establish. Amends sec. 14 of 1939 PA 176 (MCL 423.14) & adds sec. 14a.



4054 may have to be reconsidered because of a procedural move by the Dems, but apparently SB106 will be the measure the house will finalize on Tuesday. there is also a Senate bill (still working on this) that passed 22-4 when the cowardly Dems walked out.
In an interview with The Associated Press, Snyder said he had kept the issue at arm's length while pursuing other programs to bolster the state economy. But he said circumstances had pushed the matter to the forefront.
"It is a divisive issue," he acknowledged. "But it was already being divisive over the past few weeks, so let's get this resolved. Let's reach a conclusion that's in the best interests of all."
In fact, as I type this, Rick Snyder is on Greta VanSusteren on FOX.
He sounded good. His words on the Freedom To Work legislation are identical to the words we have used here and elsewhere. Choice, opportunity, freedom. His pledge to sign the bills as soon as they reach his desk could literally change the nation's future. This historic event is nothing short of amazing and couldn't come soon enough.
Thank you to those who today wrapped up a very impressive Christmas present for all Michiganders, and the rest of the country as well.
Prouder than ever to be a part of this great State.

(37 comments, 390 words in story) Full Story
By JGillman, Section News
Posted on Wed Dec 05, 2012 at 05:26:00 PM EST
Tags: Bussed in Union Thugs, Michigan, RTW, Lansing, Labor, Freedom To Work (all tags)
The left is storming the dome.
Unions have bussed in their henchmen from outside the state, and its expected to to get a little uglier than this video from just a little while ago..
If you get 5 minutes, call your Representatives, and State Senators TONIGHT if you have their local numbers, and give them support. Tomorrow if you do not. Lets get this crap over and done with permanently, or forever have these thugs running the show in Lansing and our nation.
We could see action tomorrow if things don't get too hairy. You are needed!
(14 comments) Comments >>
Advertise on RightMichigan.com
Tweet along with RightMichigan by
following us on Twitter HERE!
External Feeds
Metro/State News RSS from The Detroit News
+
4,000 missing without trace in Mich.; anguished families keep searching
+
Officials: Kilpatrick got flight passes via friend
+
Census: Detroit population loss slows, some suburbs see growth
+
Panel to decide today if Duggan's eligible for mayoral run
+
Giving a snapshot of civil rights history
+
Holiday once less about fun, more for remembering
+
Enter your photos in Celebrate Michigan Photo Contest to win prizes
+
Michigan's charter options to grow
+
Former aide sues Harper Woods lawmaker Brian Banks, claims sex harassment
+
Advocates take team approach to search
+
'A part of me is missing,' says heartbroken mother
+
Mother of 5 had turned her life around, family says
+
Series of texts from daughter, then silence since early 2011
+
Leads elude 2 families struggling to find missing couple
+
'As long as I'm alive, I'm going to keep going,' brother says of 30 year search for sibling
Politics RSS from The Detroit News
+
IRS supervisor denies wrongdoing
+
Group seeks to block insurance coverage of abortion in Michigan
+
Former aide sues Harper Woods lawmaker Brian Banks, claims sex harassment
+
Activists consider second Mich. wolf referendum to target game animal designation
+
Political insider: Gov's staff emails have scent of 'skunk works'
+
Trump: Immigrants won't vote for GOP
+
Judge won't allow hearing in lawsuit to void Detroit EM Orr's appointment
+
Gov, GOP reach deal on surplus
+
Automakers, dealers object to rental recall bill
+
Anthony Weiner launches bid to become New York City mayor
+
House panel to vote on changes to curb military sexual assaults
+
Michigan officials to develop school violence hotline
+
Republican divisions may hinder party's momentum
+
Senate rejects bid to let states run food stamp program
+
EM opponent accuses Michigan Treasurer of perjury
Front Page