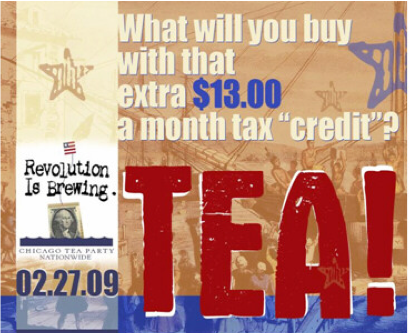 In February 2009, the modern day Tea Party movement was born.
When it was obvious that Obama was not going to pursue a path of fiscal sanity, and the country was certain to go trillions of dollars further into debt, a spark ignited the flame, and the kettle was set. The spark, an impassioned Rick Santelli, and the kettle, an increasingly concerned nation of patriots, taxpayers, and traditional American heroes.
February 19, 2009 Santelli went on a classic rant rebuking the idea that taxpayers should subsidize those who have mortgages underwater. "President Obama are you listening?" as one of the more famous quotes. However it was "we're thinking of having a Chicago tea party in July .. All you capitalists who want to show up to Lake Michigan, I'm going to start organizing" that brought the temperature to the Fahrenheit 451 mark on the digital paper we now use so regularly.
Twitter was agog, and imaginations throughout our nation flourished. What had been [sometimes not so] quietly simmering underneath hit a boiling point. Motivated patriots in several areas around the country saw Friday February 27, 2009 as a rallying day to 'petition' the government.
And it was a verifiable success.
Continued below ~