Your New Scoop Site
Welcome to Scoop!
To help you figure things out, there is a Scoop Admin Guide which can hopefully answer most of your questions.
Some tips:
Most of the layout is changed in "Blocks", found in the admin tools menu
Features can be turned on and off, and configured, in "Site Controls" in the admin tools menu
Stories have an "edit" link right beside the "Full Story" link on an index page, and right beside the "Post a Comment" link on the full story page. They can also be edited by clicking the story title in the "Story List" admin tool
Boxes are what allow you to write new features for Scoop; they require a knowledge of the perl programming language to work with effectively, although you can often make small changes without knowing much perl. If you would like a feature added but cannot program it yourself, ScoopHost does custom Scoop programming as one of its services.
If you aren't sure where to look for a particular feature or piece of display, try the "Search Admin Tools" link in the admin tools menu.
For support, questions, and general help with Scoop, email support@scoophost.com
ScoopHost.com is currently running Scoop version Undeterminable from .
Tag: Michigan
By Corinthian Scales, Section News
Posted on Wed Dec 11, 2013 at 08:40:44 PM EST
Tags: St. Clair Shores Police, Public Union thugs, Cogs in The Machine, Law enForcement vs Peace Officer, Michigan (all tags)
According to ABC-7 Action News, witnesses reported that as the dog cowered against the house, police kept shooting. If this is indeed true, it is hard to imagine how the excuse of "fearing for their lives" could have been at play at any point after the dog retreated or "cowered" next to the house.
It took the mouthbreathers 8 shots. The good Lawful folk in Michigan, should take note of that.
(4 comments) Comments >>
By JGillman, Section News
Posted on Tue Dec 10, 2013 at 03:56:30 PM EST
Tags: Cronyism, Same Snake Two Heads, Michigan, Poison, Rick Snyder, Democrats, Rich Baird, Obama Donors (all tags)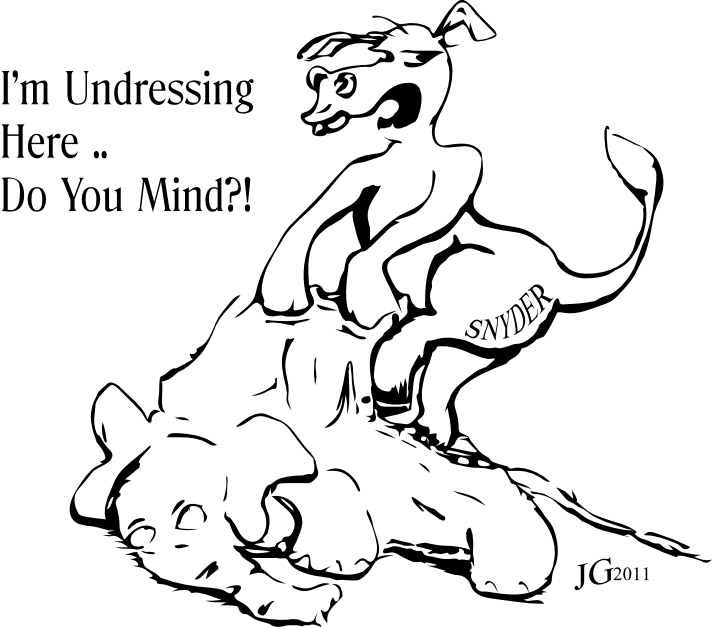 Rick Snyder
used a Chicago
Democrat
and
(BIG) Obama Donor
to run his transition team.
Rick Snyder then selected a Democrat to be the state treasurer.
Then Rick Snyder used him to assist in selecting another Democrat to manage Detroit. Race was used in the selection process, contrary to the Michigan constitution; article 1, section 26.
Then Rick Snyder gave the Chicago Democrat a cushy job in Michigan state government making $140k a year.
Oh yeah.. BIIIIIIIIG Tent.
A Message To Our Legislators - Beware False Choices
By JGillman, Section News
Posted on Tue Dec 10, 2013 at 10:13:47 AM EST
Tags: Michigan, SB636, SB661, Landlines, Phones, Rino Protection Act, Transparency (all tags)
SB636 and SB661 are on the hidden agenda this week before the end of the legislative session.
Passed in the Michigan State Senate, yet not showing on the calendar in the house, both bills are expected to be taken up this week. It is unclear if it will be tomorrow, or Thursday.
Senate Bill 636 appears to allow the withdrawal of wired phone services after three years to certain areas under new relaxed rules. The majority of senior citizens in Michigan still rely on wired services, and many use services not available without expensive changeovers. Personally, I would save on at least one phone bill, but the unreliable nature of wireless services is a concern, and the long term radio pollution potential on our health is unknown.
Senate Bill 661 is something we have discussed before. If the MiGOP really wants to alienate the folks who brought it home in 2010, they will encourage its passage due to ONE particular provision regarding the allowing of primary involvement with caucus money. The other issue; that of transparency, begets the question: "Does the end justify the means?"

One might even ask that question of those who were beaten to death while wearing burning tires around their necks in the name of peace.
If it matters to you, you know the drill.
(3 comments) Comments >>
By JGillman, Section News
Posted on Mon Dec 09, 2013 at 09:22:53 PM EST
Tags: Michigan, Rand Paul, Detroit, Rick Snyder, Cronyism, Snyder 2016, Bucket List, Useful Idiots, Corruption, Quicken Loans, MEDC, MSF, MEGA, Taxes, Theft, SB269, SB270, SB271, SB278, HB4480, HB4482, Puppetry, Bankruptcy (all tags)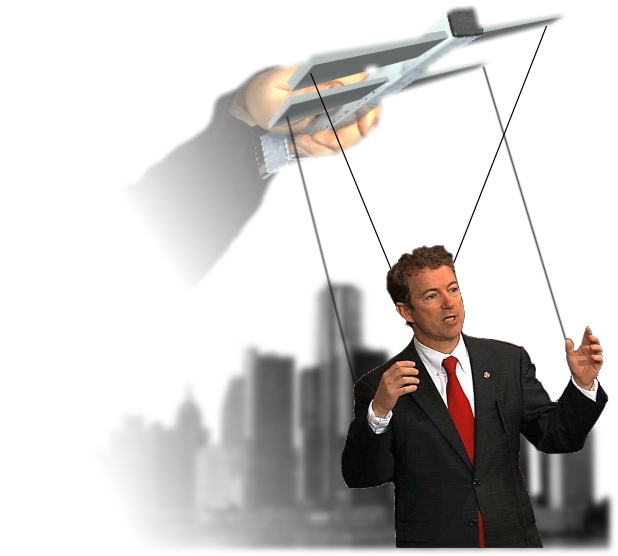 This Is NOT Your Daddy's 'Paul'
Some of the ideas are familiar, but limited in ways typically embraced by establishment Republicans.
Rand Paul's visit to Detroit was precipitated by a conference call being reported by the Detroit News. In it, Senator Paul speaks of enterprise zones, with taxes so low as to "bail yourselves out". Adding to this an loosened visa incentive for a flow of foreign "entrepreneurs" into the city.
Paul, widely considered a 2016 potential presidential candidate, said he will introduce legislation Monday to create "economic freedom zones" by dramatically lowering taxes in depressed areas and loosen visa rules to encourage foreign entrepreneurs to immigrate to the city.

"We hope to create taxes so low you essentially are able to bail yourselves out," Paul said Thursday in a conference call outlining his plan.
So now instead of "jobs that Americans don't want to do," perhaps we will be talking about cities that Americans don't want to live or work in.
I wonder how that would work?
Maybe something like this?
"Mr Chen, you are welcome to stay, invest, develop, and work in our country. However, you are limited to this particular region. If for some reason you are not satisfied there, I guess you are out of luck."
Or in other words,
"Welcome to the Hotel Detroit. Love it, or get the hell out of our country.."
Right, somehow I can't see THAT happening.
Which of course begs the question of what happens to those who emigrate, and decide to move somewhere a little safer than Baghdad of Michigan? When "loosening visa requirements," it seems that a genie let out is a little hard to stuff back in the lamp. Its hard to imagine 'restrictive' movement placed on those who simply seek a better life, and upon finding out that Detroit is no better than the hole they left, it is highly likely that they will indeed "seek" such a place.
And it seems we have heard those words about foreigners feeling welcomed before.
Go below the fold.
(2 comments, 1894 words in story) Full Story
By Corinthian Scales, Section News
Posted on Mon Dec 09, 2013 at 11:04:55 AM EST
Tags: Rep. Tom McMillin, HB 5159, Michigan, Light 'em up!, Public Act 188 of 2009, Lt. Gov. Brian Calley, Sure .. he is a 'con'servative, House Roll Call 261 of 2009, House Roll Call 619 of 2009, Mr. 36%, One Term Nerd (all tags)
I'm glad to see someone at least trying to address
overreaching stupidity that Mike Bishop allowed to pass in 2009
.
Restaurants and bars would have the option of allowing smoking on patios and other outdoor portions of their businesses under bipartisan legislation recently introduced in the state Legislature.
Banned outside no less! F'ing amazing.
"I think this something businesses should be able to offer if they choose to," said Rep. Tom McMillin, R-Rochester Hills, the sponsor of House Bill 5159. "People step outside to smoke now anyway.

"I am not a smoker, but to me this is an issue of liberty and property rights," Rep. McMillin continued. "That's why I didn't support the smoking ban legislation when it was in the House. If I was in one of these areas with my children and someone started smoking, I'd go someplace else. I believe that's a choice we always have."
Been saying that to non-smokers for years, Rep. McMillin. Bottom line, it's a big state, and there is room for everyones vision of what is condoned by business owners in their establishments, especially when it is an exorbitantly taxed, legal product in question. Prior to this nanny authoritarian law, if I chose to enter a place that didn't permit smoking that was my choice. Today, my choice, and other establishment owners is eliminated by a majority of overcompensated full-time graft practitioners (Tom, and a handful of others excluded). But, it's about public heath CS! Of course it is, as long as one doesn't notice the deep pockets for lobbyist like the exempted casinos in Detoilet.
Ps. Brian Calley strikes again. My surprised look...
(1 comment) Comments >>
By Corinthian Scales, Section News
Posted on Mon Dec 09, 2013 at 10:11:21 AM EST
Tags: L. Brooks Patterson, Obamacare, Seat belts? Feh, Laws shmaws! That's for those little people, Oakland County, DIA TAX, DRIC-NITC, 11th District Republican Star Chamber, backroom shenanigans, Republican kakistocracy, memory holes, Big government, Filling the Pockets Of Friends, Big Budget, Michigan, GOPe, Democrat-lite, Julianna Smoot & Lon Johnson, Centrists lost 2012, 2014, Randy Richardville, Jase Bolger, Lt. Gov. Brian Calley, Sure .. he is a 'con'servative, Mandates, Tilting at Windmills, Progressives, Rick Snyder, Rich Baird, NERD Fund, The Flim-Flam Man, Snydercaid, Mr. 36%, One Term Nerd (all tags)
What an Executive wagon-circling doozy floated this morning in The News.
Across the nation, the fees and taxes imposed next year through the Affordable Care Act will generate about $20 billion, based on Joint Committee on Taxation estimates, and could affect nearly 60 percent of Americans who receive insurance through their workplace.

It's uncertain how many employees could pay the higher fees and taxes because employers are deciding whether to absorb the cost or pass along all or part of it. For example, Oakland County government decided to pick up the tab - more than $600,000 - for its workers. Macomb and Wayne county officials could not be reached about their plans.
As the old saying goes - No pain, No ga, well, in Brooksie's bureaucratic fiefdom... no pain! Pay up, taxpayers suckers.
With Republicans like in Oakland County, Randy Richardville, Jase Bolger, and Snyder/Calley, who needs Lon Johnson and Julianna Smoot?
By JGillman, Section News
Posted on Thu Dec 05, 2013 at 09:26:25 PM EST
Tags: Michigan, Law Enfocement, 2nd Amendment, Gun Rights, Right To Keep And Bear Arms, Mason County, Sheriff, Real Heroes, Constitution, Ted Schendel, Nick Finch, Kim Cole (all tags)
That people who value the constitution should be concerned about.
No 'law enforcement' activity can lawfully occur in your county without the sheriff being aware, or present directly, or through deputies. No federal operation can legally enacted without the cooperation of the county sheriff's office. Its a fact. The federal authorities have no arrest jurisdiction in the state of Michigan or any other 'sovereign' state without the assistance of local authorities, and in particular the highest local authority; the ELECTED sheriff.
What is important to remember when voting to fill this position, is whether he will be upholding the constitution, or collaborating with federal or rogue state agencies, which all too often seem to abridge constitutional protections as a matter of convenience.
We have highlighted a couple of TRUE county servants in the past.
Continue below the fold for who they were, and more good news.
(516 words in story) Full Story
By Corinthian Scales, Section News
Posted on Thu Dec 05, 2013 at 07:45:36 AM EST
Tags: Amendment XVIII, Slimy lawyers, Congresscritters, SCOTUS, screw 'em, We the People, Jury nullification, Individual non-compliance, Liberty, Red Solo Cup, Sharpies, Michigan (all tags)
Short and sweet.
The 18th amendment was repealed, but the court's power grab was not.

Entire article HERE
Advertise on RightMichigan.com
Tweet along with RightMichigan by
following us on Twitter HERE!
Front Page