Your New Scoop Site
Welcome to Scoop!
To help you figure things out, there is a Scoop Admin Guide which can hopefully answer most of your questions.
Some tips:
Most of the layout is changed in "Blocks", found in the admin tools menu
Features can be turned on and off, and configured, in "Site Controls" in the admin tools menu
Stories have an "edit" link right beside the "Full Story" link on an index page, and right beside the "Post a Comment" link on the full story page. They can also be edited by clicking the story title in the "Story List" admin tool
Boxes are what allow you to write new features for Scoop; they require a knowledge of the perl programming language to work with effectively, although you can often make small changes without knowing much perl. If you would like a feature added but cannot program it yourself, ScoopHost does custom Scoop programming as one of its services.
If you aren't sure where to look for a particular feature or piece of display, try the "Search Admin Tools" link in the admin tools menu.
For support, questions, and general help with Scoop, email support@scoophost.com
ScoopHost.com is currently running Scoop version Undeterminable from .
Tag: State Representative
By Michael Gillman, Section News
Posted on Sun Jul 15, 2012 at 10:09:51 AM EST
Tags: Jason Gillman, State Representative, Michigan, 104th (all tags)
Readers of Right Michigan already know that adding Jason Gillman to the Michigan Legislature would be a huge step forward for constitutional, limited government advocates.
But now is the time to stop applauding and DO something about it.
There are not a lot of races in Michigan this Summer where you have this chance. Jason has ignited the passions of enough local citizens to make a race with a competent, but timid incumbent into a real contest. Most of you don't live in this or a similar district. You have a conservative incumbent, an unopposed incumbent, or an incumbent who can't be beat, or a Democrat you can't get rid of.
It is time for you to involve yourself in a race that matters; that CAN be won. Statewide and nationally, liberals are watching this race. The Daily Kos (expletives deleted) has identified Jason as a "threat" to the status quo candidate. The incumbent recognizes that threat and is even using the hated "robocalls" a full four weeks before the election. And here is laid bare the real difference in the campaigns. Money.
Incumbents can easily tap the cash register of Lansing lobbyists. Organizations and PACs take the easy way out and give dollars to incumbents (eg: the Greater Detroit Chamber of Commerce endorsing Debbie Stabenow, while few of its members would ever vote for her). The best current guess is that Jason's incumbent opponent will spend over $50,000, while Friends of Jason Gillman plan to spend about $8,000!
But despite the 6-1 spending difference, Jason's signs are popping up everywhere and letters to the editor supporting him are increasing. Now, wherever you are reading this, you can make a decision that will MAKE A DIFFERENCE. If you have Grand Traverse County friends, contact them today and urge not only a vote but sign locations and active participation. Most importantly, this week Jason will initiate a few radio commercials. He is "making the sale" everywhere he can actually talk to voters, but media is both a luxury and necessary. Please send a check (and make it hurt a little) to "Friends of Jason Gillman" PO Box 5449, Traverse City, Mi 49696. We all send our checks to state and national candidates and wonder if we have really done anything in the big picture. This is a race where you really can make a difference.
Observant readers will note the name similarity of the writer to the candidate. Well, it is not only pride in my son, but a growing belief this race can be won which prompts this. I have described myself as "generationally challenged" by over 50 years watching and participating in Michigan politics. I haven't been able to believe that efforts toward limited and fiscally-sound government can prevail against the power of the "alphabet groups (AFL, AFSCME, SEIU, UAW, etc)". But if it can happen in Wisconsin and Indiana, maybe here in Michigan? Help make me a believer, with your help...from wherever you are. This is a watershed race.
Michael J. Gillman

(1 comment) Comments >>
By JGillman, Section News
Posted on Thu Apr 05, 2012 at 11:28:56 PM EST
Tags: Conservative Values, Democrats, Republicans, $100 Project, State Representative, Michigan (all tags)
Hey guess what? The filing deadline for Michigan candidates to appear on the
August 07, 2012
ballot, is
May 15, 2012.
We want conservatives to consider becoming candidates for Michigan state representative in their districts. We call it the $100 project, because its as easy as laying out 100 skins to make a difference and drive the discussion about conservative values. Anyone 21 and older who is registered to vote can participate.
For less than the cost of a month's worth of cappuccino, YOU TOO can file as a candidate for the office of Michigan State Representative for your district! See the world! See Lansing! Make new friends! All for a single Benjamin!:
Seriously. The prerequisite lobotomy is waived this year for the $100 project.
Interested? Join us below the fold!
(832 words in story) Full Story
A Message To Our Legislators - Beware False Choices
By JGillman, Section News
Posted on Wed Jul 06, 2011 at 01:43:10 PM EST
Tags: Michigan, State Representative, Wayne Schmidt, State Senator, Howard Walker. Grand Traverse County, RTW, Right To Work, Freedom To Work, Unions, Labor (all tags)
At 7 PM tonight, the Grand Traverse County Commission will have an opportunity to offer its support for
the Freedom To Work coalition
through
a resolution
that will go to other counties, State Representative Wayne Schmidt, and State Senator Howard Walker.
The unions? Not so happy. Even though this is a non binding, non directive resolution that merely states support by the commissioners for the freedom of workers to choose for themselves where they are employed, and who represents them to prospective employers. They see it as an attack on unions, when it is not. Times have changed, and this is an opportunity to move forward and bring back the greatness the Michigan workforce once had.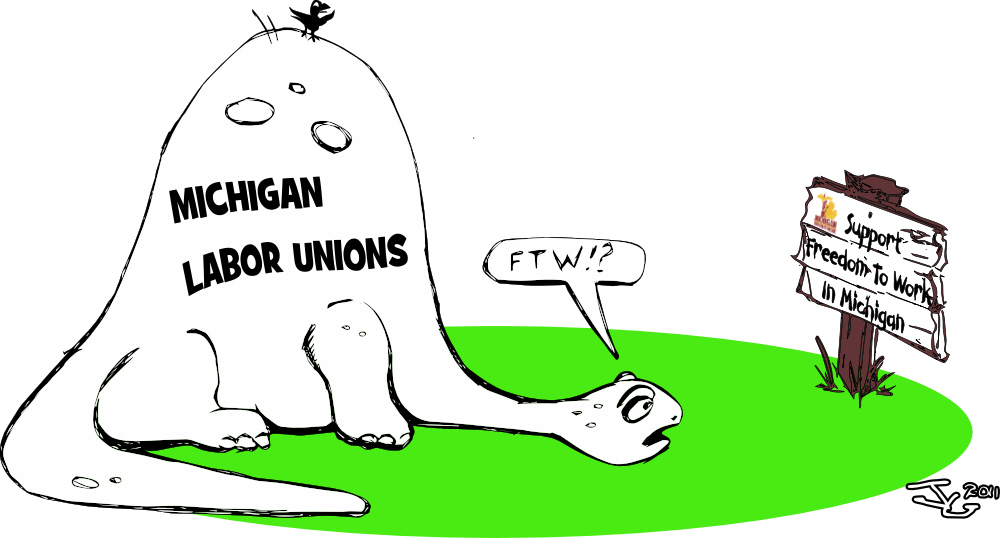 Living in the stone-age is not an excuse for the inability for Michigan workers to compete with others internationally, and nationally who are not bound by third parties "eating their substance."
(1 comment) Comments >>
By JGillman, Section News
Posted on Fri Jul 30, 2010 at 02:56:24 PM EST
Tags: Michigan, State Representative, 23rd District, Matt McCormick, Downriver (all tags)
From a press release
McCormick's Primary Opponent Dredges Mud
New Boston, MI, July 30, 2010- A letter from a New Boston candidate to voters in the 23rd District is claiming that Matt McCormick does not have as good a voting record in local elections as his major opponent does. The letter further indicates that the reason that the negative campaigning is taking place is due to robo-calls from a bogus Tea-Party group that were sullying the voting record of other republican candidates.
Matt McCormick was asked if he was behind the robo-calls in June and early July:

"I told the candidate's dad that I didn't have anything to do with the robo-calls and I even offered to help find out who was. There are a bunch of these Democrat planted tea-party groups cropping up. I figured it was one of them. Shoot, I've been a tea-partier since the beginning and I realize that our name has been co-opted by Dems. My buddy Chet Zarko helped to rip the lid off this liberal politicking."
Now that his opponents in the 23rd are going negative McCormick feels confident.
"Apparently they know they're way behind and they're forgetting the Reagan 11th Commandment. Don't lie about other Republicans."
The 23rd Michigan House District includes: Brownstown, Woodhaven, Grosse Ile, Gibraltar, Rockwood, Flat Rock, Huron Township and Sumpter Township.
(1 comment) Comments >>
By JGillman, Section News
Posted on Mon Jun 28, 2010 at 03:53:57 PM EST
Tags: Michigan, Flat Rock, Dr. Rob Steele, Matt McCormick, State Representative, State Senate, Ruth Johnson, Doug Riimel (all tags)
Flat Rock, MI, June 24, 2010 - The Campaign Committee for Michigan Conservatives will hold the second in a series of "Meet the Candidates" events Thursday,
July 8th
at the Flat Rock Community Center located at
One Maguire St. in Flat Rock. (Phone 734-379-1450). Doors will open at 6 p.m.
Three state candidates will be featured at the event including Matt McCormick - Candidate for State Representative, 23rd District; Doug Riimel candidate for State Senate, 8th district; and Ruth Johnson for Secretary of State. Each candidate will have an opportunity to speak followed by an open discussion with voters. Questions are not determined in advance or pre-screened. This is a great opportunity for citizen's voices and concerns to be heard and discussed with candidates.
Special guest, Dr. Rob Steele, campaigning for Congress against John Dingell will make an appearance and give a short presentation prior to the state candidate/audience discussion.
The Campaign Committee for Michigan Conservatives is a Monroe-based non-partisan organization committed to helping traditional conservative candidates get elected into office regardless of party affiliation. All interested in promoting conservative values and a return to our constitutional rights and privileges are invited to attend and actively take part. For more information go to www.campaigncommitteeformichiganconservatives.com or call Michael Amaniera, Chairman of the Campaign Committee for Michigan Conservatives at 856-896-0353.
By JGillman, Section News
Posted on Thu May 13, 2010 at 08:48:30 AM EST
Tags: Kim Emmons, 97th, Michigan, State Representative, Saul Anuzis (all tags)
Saul Anuzis, newly elected Michigan's Republican National Committeeman, recently endorsed Kim Emmons, candidate for the 97th State Representative race. Emmons says:
"Saul has been such an inspirational leader in conservative politics over the years. I am honored to have his endorsement as Michigan Republican National Committeeman and as a friend. I am humbled to know that such an asset to the people of Michigan supports and finds the qualities in me to represent my neighbors "
Emmons is a member of the Michigan Republican State Committee from the 4th congressional district. The state committee elects representatives to the Republican National Committee. Most recently elected was Anuzis, who was elected on May 1.
By JGillman, Section Multimedia
Posted on Thu Apr 29, 2010 at 08:34:06 AM EST
Tags: Michigan, State Representative, 23rd District, Matt McCormick, Downriver (all tags)
Another conservative, Matt McCormick has entered the race for the 23rd District state house Matt says:
"I believe in a limited government and the reliance on the greatness and strength of the people. I think that you and I do a better job of raising our kids, handling the bills, getting exercise and living our lives to their fullest than the government does."
Welcome to the fray MAC!

Advertise on RightMichigan.com
Tweet along with RightMichigan by
following us on Twitter HERE!
Front Page