Your New Scoop Site
Welcome to Scoop!
To help you figure things out, there is a Scoop Admin Guide which can hopefully answer most of your questions.
Some tips:
Most of the layout is changed in "Blocks", found in the admin tools menu
Features can be turned on and off, and configured, in "Site Controls" in the admin tools menu
Stories have an "edit" link right beside the "Full Story" link on an index page, and right beside the "Post a Comment" link on the full story page. They can also be edited by clicking the story title in the "Story List" admin tool
Boxes are what allow you to write new features for Scoop; they require a knowledge of the perl programming language to work with effectively, although you can often make small changes without knowing much perl. If you would like a feature added but cannot program it yourself, ScoopHost does custom Scoop programming as one of its services.
If you aren't sure where to look for a particular feature or piece of display, try the "Search Admin Tools" link in the admin tools menu.
For support, questions, and general help with Scoop, email support@scoophost.com
ScoopHost.com is currently running Scoop version Undeterminable from .
Tag: Taxes
By JGillman, Section News
Posted on Fri May 17, 2013 at 12:07:43 PM EST
Tags: Michigan, Congress, Republicans, Repeal, Treasury, Taxes, Contributions, Constitution, Obamacare, ACA, Candice Miller, Fred Upton, Dave Camp, Tim Walberg, Gary Peters, Dan Beneshek, Defund Away, IRS (all tags)
The
vote to repeal Obamacare
like the original vote was decided along party lines sans two Dems who acknowledge the catastrophe their party has wrought.
All of Michigan's Republicans stepped up to the plate to 'repeal' the 'affordable' health care act, with a couple of them making sure you know they did. It marks the third time the House has voted to fully repeal this law since 2011. Rep Tim Walberg (R-CD7) voted in favor of H.R. 45 to repeal the President's health care law, and said the following:
"The reality of Obamacare is millions of Americans losing access to their current health care coverage, job destroying tax hikes and mandates, and massive health insurance premium increases. This government takeover of health care will hurt families, hurt small businesses, hurt retirees, and hurt Americans seeking to find work in our tough economy, so I voted today to repeal it. I support common sense, patient-centered solutions such as ending lawsuit abuse, expanding the flexibility of medical savings accounts, and allowing the purchase of insurance across state lines, that will truly make health care more affordable and help families."
And he wasn't the only one.
Fred Upton (R-CD6) heads the Energy and Commerce committee, which uses the platform to examine the costs of Obamacare (and actually uses THAT Name for it, which I find inappropriate and strange)as reported by insurers.
Candace Miller (R-CD10) referencing previous appropriations efforts alongside the repeal vote says:
"There is nothing more personal to each and every American than their health care and their relationship with their doctor. And no issue is more important to each and every American than having a growing economy and job security. Today the House acted for the 37th time to repeal ObamaCare because it puts at risk the doctor-patient relationship and it will destroy jobs and put countless others at risk.

To make matters even worse, last Friday the IRS admitted that it unfairly and improperly targeted conservative groups for extra scrutiny by using purely political motives for conducting their duties to enforce the tax code. So now because of ObamaCare every American will not only have to submit all private information about their income and earnings to the IRS, they now will also now have to supply their most private health information to a government agency that currently does not have the trust of the American people.

ObamaCare has a myriad of fatal flaws that call for one action - the full repeal. The House has once again acted to get this job done and now if the Senate will join us we can get to work on a replacement to ObamaCare that has patient-centered reforms focused on protecting the doctor-patient relationship instead of putting it at risk, reducing costs instead of raising them, expanding access to care for all Americans instead of putting current care at risk, and finally creating jobs instead of destroying jobs."
And Dave Camp (R-CD4) listed a few reasons a couple days ago why repeal is a good plan.
Continued below

(3 comments, 1102 words in story) Full Story
By JGillman, Section News
Posted on Fri May 03, 2013 at 05:19:42 PM EST
Tags: Midland, MI, Public Schools, Bonds, Off Cycle Elections, Taxes, IB, Common Core, Parent Concerns (all tags)
There are two Midland school requests up on May 7, 2013
The school superintendent wants all you Midland conservatives to make sure you get out and VOTE!

"two ballot proposals for your consideration if you are residents of the Midland Public Schools district. One, is a Sinking Fund proposal requesting 2.0 mills (millage) to be used for facility upgrades, renovations, construction and improvements. The second, a proposal for a .9 mills (millage) for the sale of Bonds totaling $20,880,000 to purchase equipment, security technology, infrastructure, etc., to support the district's technology plan"
The Plan Boss! The PLAN!
OK get the midget imagery out of your head Tutu.
Grab an adult stylized beverage, fire up the wi-fidelity, and spend the weekend acquainting yourself with some of the issues surrounding such requests, and go to the polls a happy informed citizen on Tuesday.
More below
(1 comment, 827 words in story) Full Story
A Message To Our Legislators - Beware False Choices
By JGillman, Section News
Posted on Mon Apr 15, 2013 at 02:46:11 PM EST
Tags: Michigan, Taxes, Tax Code, Congress, Candice Miller (all tags)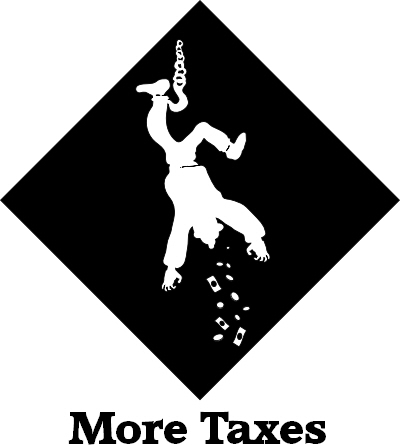 WASHINGTON - U.S. Representative Candice Miller (MI-10) today made the following statement marking Tax Day:

"Today as millions of Americans rush to complete their federal income return and file it before the midnight deadline, it is more clear than ever that our tax code is overly complex and in desperate need of reform. It is simply ridiculous that the average American family needs to spend countless hours simply trying to comply with the tax code or that many need to hire an army of accountants to make certain they comply.

Enough is enough. It is time eliminate special interest tax breaks and deductions for a few so that we can simplify the tax code and lower rates for everyone. A more flatter, fairer and far simpler tax code will not only allow families to focus on meeting their needs instead of complying with the law, it will also promote economic growth that will create jobs and allow our economy to thrive. This is the year to finally get that job done."
Looking forward to your proposed fair or flat tax legislation Congressman.
(2 comments) Comments >>
By Corinthian Scales, Section News
Posted on Mon Mar 11, 2013 at 10:39:58 AM EST
Tags: First Responder is always YOU, Michigan, Bowing To The King, gun CONTROL, Perpetuating Need, Destroying Self Reliance, Breaking Responsibility, James O'Keefe, Sheriff David Clarke Jr., Rule of Law, 2A, un-a-LIEN-able, Liberties, American, Self-Reliance, Education, Responsibility, Oaths, Purge Violators, SB59, Rick Snyder Veto, Firearm Registration, Government sanctioned Homicide Zones, Be a victim, CMU, Rape, Robberies, Crony Capitalism, MEDC, Taxes, One Term Nerd (all tags)
"You're on your own, and that's the truth." - Sheriff David Clarke Jr.
By JGillman, Section News
Posted on Sat Feb 16, 2013 at 10:09:16 AM EST
Tags: Rose Bogaert, Wayne County Taxpayers Inc, Taxes, Appeals, Michigan (all tags)
Back by popular demand, the Wayne County Taxpayer's Inc will be holding another "How to Appeal Your Property Assessment" program.
Rose Bogaert of WCTaxpayers, says
"Foreclosures are up for nonpayment of mortgages. They are also up for non payment of taxes. The rules allow foreclosures after two years of nonpayment of taxes. Many people have lost their lifetime investment due to job loss or wage cuts. This is a buyer's market, if you can find someone to finance you."
She notes also, that despite the buyers market, tax increases are expected most everywhere due to reversion on sale of property, and cap increases hitting the actual value.
The event is billed as 'free' but donations will be accepted (A buck or two will be much appreciated ) to help defray the cost of materials.
Location: Metro South Church
21080 Penn Street
Taylor, MI
(at I 75 and Eureka next to Home Depot)
Wednesday, February 20, 2013
7:00 PM
For contact info, this information is posted on Rose's page
By JGillman, Section Multimedia
Posted on Wed Feb 13, 2013 at 11:04:20 AM EST
Tags: Michigan, State Senate, Tourism, Boating, Economy, Senator Proos, Taxes, Fuel Taxes, Donor State Taxes, Dredging, Say Please (all tags)
Given the previous article, I thought you all might enjoy this one.
Michigan State Senator Proos talks about dredging as it relates to water use tourism, and the dollars flowing in from it. Concerned about a boating traffic 'shutdown' he notes the economic costs of our great big bathtubs filling up with silt.
At the end, as always, our daddies in Washington are pleaded to, for consideration in getting some of our allowance money to pay for getting our toys into the harbor.
By Corinthian Scales, Section News
Posted on Fri Feb 08, 2013 at 09:11:07 PM EST
Tags: Rick Snyder, Loves him some Prevailing Wage, Filling the Pockets Of Friends, Obamacare, Exchanges, gas tax, Sales Tax, registration fees, Spending Your Kids Inheritance, Entitlements, Taxes, SB 59, Snyder veto, Centrists lost 2012, Primary, Republicans, 2014, One Term Nerd (all tags)
Somebody really needs to check the Nerd for Granholm's moles.
Detroit News
The Republican governor told reporters trying to repeal prevailing wages is a "very divisive" issue. He says he's instead focusing on getting support for his new state budget and ensuring changes affecting the state's largest health insurer get to his desk.

House Republicans say state agencies, universities and school districts could save money if they didn't have to pay prevailing wages.
So, instead of finding cost savings for the taxpayer, the Governerd says, "Hey! It's just so much easier to keep raiding the little peoples wallets. Besides, have you seen the Democrat, and unions that I'm in cahoots with?". Anybody thinks for one moment that the Nerd wanted anything to do with Freedom To Work Law in this state .. they have a room temperature IQ.
(3 comments) Comments >>
By JGillman, Section News
Posted on Thu Feb 07, 2013 at 02:28:58 PM EST
Tags: Michigan, Bad Doggie, Rick Snyder, Spending Your Kids Inheritance, Entitlements, Taxes, Primary, Republicans, 2014 (all tags)
I would have thought it hard to consider a primary challenge to Rick Snyder a real possibility.
Given the courage to stand up for what is only right, and sign Freedom-To-Work legislation, it seemed like Rick Snyder sealed the deal for a 2014 re-election bid. Anyone who would have challenged him would have to have a good explanation as to WHY they might oppose such a righteous outcome. As some have said, its easier to train a bad Chihuahua to be good, than euthanize it and get a good Sheepdog. (I know that no-one has put it that way, but it just seemed appropriate.) Puppy training our governor seemed to have worked, and by golly that big bite for the rights of Michiganders was worthy of a few accidents on the rug.
But alas, he is chewing up the furniture and foaming at the mouth now:
Governor Rick Snyder became only the 6th governor in the US to back Medicaid expansion in accordance with The Affordable Care Act (Obamacare). Details here. The conservative Heritage Foundation has estimated that this action will cost Michigan taxpayers an additional $835 million.

The assumption might be that these funds will be reimbursed by the federal government. Do you really believe that? And even if the feds did cover that cost, where do you think that money is coming from?
That and the budget
ballooning to $51 Billion
??!:
"The total executive budget recommendation for fiscal year 2014, including all state and federal revenue sources, is $50.9 billion.
Leaves one question.
Do ya folks think its possible old Yeller's got the rabies?
If so, you KNOW what that means.

(9 comments) Comments >>
Advertise on RightMichigan.com
Tweet along with RightMichigan by
following us on Twitter HERE!
Front Page