Your New Scoop Site
Welcome to Scoop!
To help you figure things out, there is a Scoop Admin Guide which can hopefully answer most of your questions.
Some tips:
Most of the layout is changed in "Blocks", found in the admin tools menu
Features can be turned on and off, and configured, in "Site Controls" in the admin tools menu
Stories have an "edit" link right beside the "Full Story" link on an index page, and right beside the "Post a Comment" link on the full story page. They can also be edited by clicking the story title in the "Story List" admin tool
Boxes are what allow you to write new features for Scoop; they require a knowledge of the perl programming language to work with effectively, although you can often make small changes without knowing much perl. If you would like a feature added but cannot program it yourself, ScoopHost does custom Scoop programming as one of its services.
If you aren't sure where to look for a particular feature or piece of display, try the "Search Admin Tools" link in the admin tools menu.
For support, questions, and general help with Scoop, email support@scoophost.com
ScoopHost.com is currently running Scoop version Undeterminable from .
Tag: transparency
By JGillman, Section News
Posted on Wed Sep 05, 2012 at 04:13:13 PM EST
Tags: Michigan, Snyder, Transparency, Cronyism, Hand In The Cookie Jar, Bridges to Nowheresville, This Place Is A DRIC-Sty!, LIke A DRIC Over Troubled Waters, Weasel Politics (all tags)
None other than
Ed Arditti breaking the news
that the "People Will Decide" ballot initiative WILL appear on Michigan ballots in November.
"No motion for rehearing will be entertained"
Oh my, doesn't THAT put a kink in the nerds plans.
Plans? What plans? There aren't any steenkin plans! er.. at least that we will be able to discover.
(4 comments) Comments >>
By Corinthian Scales, Section News
Posted on Mon Jun 18, 2012 at 04:25:44 PM EST
Tags: Rick Snyder, Obamacare Health Exchange, Anti-Right To Work, Will VETO R-T-W, DRIC-NITC, Public-Private Partnerships, Light Rail boondoggles, Central Planning, NAFTA Bridge, ChiComs, Massive Federal debt is not a factor, Foreign National Job Preference, H-1B Visas, EB-5 Citizenship, Tax Hiker, Wholesale Gas Tax, Registration Fees, Stem Cell Research, Government Funding, Green Subsidies, Cowardly with Detroits Financial Disaster, Progressives, Mitt Romney, Been there done that with Granholm, Transparency, Michigan Banana Republican Party, Health Care Compact, Joke is on The Taxpayer, TEA movement, I marked my 2010 ballot and all I got was Bigger Government and No R-T-W (all tags)
Pay close attention,
easily duped Governerd fanbots
.
Unfortunately, CATO pulled its punches on ObamneyCare much like have the goofy edge-nibbling Health Care Compact proponents. The right way of addressing Federally administered RomneyCare for all?
(272 words in story) Full Story
A Message To Our Legislators - Beware False Choices
By Corinthian Scales, Section News
Posted on Tue Jun 12, 2012 at 02:19:52 PM EST
Tags: Rick Snyder, Tax Hiker, Anti-Right To Work, Will VETO R-T-W, Transparency, DELE-GATE, MI-GOP, Dashboards, DRIC-NITC, NAFTA Bridge, ChiComs, NITC-DRIC Bridge, Public-Private Partnerships, NGO, Corporacracy, Light Rail boondoggles, Central Planning, Canada, America, Mexico, United Nations, Agenda 21, Follow The Money, TEA movement (all tags)
It's yet another pretty sad day for the "DELE-GATE" tattered MI-GOP when even a slippery goonion labor propped up turd like Richardville is cut out of the loop by the Governerd.
via The Detroit News
Despite a big grin on his face, Gov. Rick Snyder sidestepped questions Tuesday morning about a possible announcement this week on an agreement to build a new bridge to Canada.

Snyder fielded questions about the New International Trade Crossing after speaking at a transportation summit at the Motor City Casino in Detroit.

"There's supposed to be announcement on Friday? I hadn't heard that," teased Snyder. "All I will say is that I'm fully committed to building the NITC because of its importance to the economy of Michigan and Canada."

Rest here
Bull. Sh!t! It's more than obvious that this shady Canadian schemed Public Private Partnership, Chicom and NAFTA entwined goonion labor payola boondoggle Bridge deal being foisted upon U.S. taxpayers by the Governerd, Prince William Clay II, and LaHood just has to reek to high heaven. Frankly, I'm not so sure anymore that if we all ended up with a Gov Bernero instead of the Ann Arbor Nerd, that 'ol Virg would've been as brazen and as slimy in this unnecessary bridge as Ricky Ardesta is. As much as I hate to say it, even a lame-duck Jenny the now Wartless wasn't this devious and clandestine when pursuing it as the DRIC.
TEA movement folk, y'all might want to be seriously scouting for a Governerd primary challenger now.
By JGillman, Section News
Posted on Mon Apr 23, 2012 at 05:25:08 PM EST
Tags: Snyder, Ardesta, Michigan, Abortion, Stem Cells, UofM, Republicans, Transparency (all tags)
In fact, go ahead paint the windshield black and hit the gas.
The Governerd has drawn the line in the embryonic muck used in our universities. He doesn't want the details of taxpayer funded stem cell research to be TOO transparent. From the Ivory tower:

"Republican Michigan legislators who are trying to force the University of Michigan to provide details on embryonic stem-cell research have a big hurdle to overcome: Gov. Rick Snyder.

Snyder, also a Republican, remains convinced that the Legislature cannot force U-M or other universities to answer questions about stem cells included in budget bills, his spokeswoman told the Free Press."
Of course such transparency might reveal even more of the dirty little secret
known as Detroit
with its status as abortion capitol.
My goodness we hate to see little shredded blobs of plasma go to waste. Golly if those mean ol Republicans would just stop nosing around where they aren't welcome! Just give the money and shut up already.
Anyhow, had to put it out there. Stay tuned.
(3 comments) Comments >>
By JGillman, Section News
Posted on Thu Apr 21, 2011 at 10:07:28 AM EST
Tags: MSP, Michigan, State Police, Data Extraction, Cell Phones, Texting, Sir that is an ugly cat picture, Cellebrite, Forensic tools, Transparency (all tags)
Left or Right, on this issue we should agree.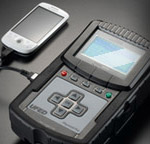 The troubling revelation that Michigan State Police have the tools to so completely violate a person's 4th amendment rights, has both the ACLU and conservatives concerned, and rightly so. The hand held machine available to officers can scan and retrieve a complete inventory of cell phones information, including pictures, text, email, and phone records. From the manufacturer's site:

The Cellebrite UFED Physical Pro is a high-end, all-in-one solution for logical and physical extraction. The UFED Physical Pro expands your current device capabilities to extract deleted mobile device data, user passwords, file system dumps, and physical extraction from GPS devices.

With expanded coverage that now includes more than 3000 phones and a growing list of GPS devices, UFED Physical Pro provides the most complete mobile forensics solution available on the market.

Utilizing UFED's simple and field-proven user interface, a complete high-speed hex dump of the phone memory is delivered without the need of cumbersome PC drivers. Critical data such as user lock codes, and deleted information such as text messages, call history, pictures, and video are sorted and retrieved by Cellebrite's Physical Pro engine. The UFED Physical Pro also includes robust search tools for manual hex dump analysis, as well as an expert mode, which allows advanced capabilities for researchers.

UNPARALELLED ACCESS TO PHONE MEMORY
UFED Physical Pro provides access to data inaccessible by logical methods:

Phone user lock code

Deleted data including: deleted call history, text messages, images, phonebook entries and videos

Access to internal application data

Phone internal data including: IMSI history, past SIM cards used, past user lock code history
Under no circumstance would these be appropriate tools patrol officers should be carrying. It seems imprudent that a patrol officer should need to carry such technology for common stops, traffic enforcement, or assisting motorists.
Further troubling, is the reticence of the MSP to provide a modicum of transparency sans a very high fee. Likely violating the intent of law.
~ More Below ~
(28 comments, 1444 words in story) Full Story
By Corinthian Scales, Section Multimedia
Posted on Tue Oct 26, 2010 at 10:33:56 PM EST
Tags: CD-1, Dr. Dan Benishek, One Week, Glenn Wilson, Transparency, Stalking Horse (all tags)
The above campaign ad is the latest that can also be seen here, and here, with their blogs calling for a Benishek money bomb.
With one week to go one has to ask, why? Why is a money bomb needed now?
(16 comments, 197 words in story) Full Story
By J Baranowski, Section News
Posted on Wed Nov 04, 2009 at 04:01:35 PM EST
Tags: Accountability, Transparency, Taxes (all tags)
Have you ever looked at your city's budget? How about the county? Or the state? If you haven't, I encourage you to go online and check them out. One word seems to echo in comments and debates about the recent WISD Millage Proposal...TRANSPARENCY. But it's not just about the schools; we need to demand transparency regarding the use of all public funds.
(556 words in story) Full Story
By Nick, Section News
Posted on Fri Apr 24, 2009 at 01:31:37 PM EST
Tags: Exclusive, Interview, John Walsh, Livonia, MBT, transparency, spending cuts, stimulus, House, Dillon (all tags)
We talk so often here about the things that are going wrong in Lansing and what the tax-and-spenders are up to that I think it's important to check in with the good guys from time to time to get their take on the issues facing taxpayers and the legislature today.
The GOP House minority continues to sponsor and introduce legislation, to work behind the scenes and to try to figure out some sort of positive solution to this tax-hike / budget mess.
We rarely hear about that in the MSM.
Being a member of a legislative minority makes it tough to garner headlines. But they're working hard and they're trying to make a difference.
This week I spoke with Livonia's freshman Republican Representative John Walsh.
Interview after the break...
(1724 words in story) Full Story
Advertise on RightMichigan.com
Tweet along with RightMichigan by
following us on Twitter HERE!
Front Page